After reading dozens of reviews you're decided: you want a fresh start. A detox diet is a great way to reset your metabolism and to get rid of bad habits so you can finally crush your goals with a kick-start routine. So you decided to start a detox cleanse. Congrats! This is the first step to a healthy lifestyle.
However, there's so much information on the internet, you have no idea where to start from and how to do this, right? Don't worry! We got you. Here's everything you need to know to start that juice cleanse to finally start living the life you deserve.
Ok, you're decided but… how and where do you start? 
Why Should You Detox With Juices?
First, you need to set your goals: What do you want the outcome to be after your juice cleanse? Are you looking to detox your body? Get healthier? Quit a bad habit? Make sure you have a clear picture of your desired end goal and start from there.
Once you know this, you'll quickly realise that you need to detox your body. Meaning, eliminate toxins and regenerate cells so that the body functions properly. And even if our body has the necessary mechanisms to purify itself. Our current lifestyle, filled with stress, bad habits, poor sleep, and consumption of industrialised foods, etc prevents the process from being carried out at 100%.
Our demand for detoxification is greater than what our bodies can bear. Hence, the toxins that could not be released accumulate in the body producing symptoms such as weight gain, allergies, poor digestion, leaky gut, hormonal imbalance, poor sleep, acne, irritability, cellulite, or fatigue, and so much more.
A juice cleanse will help you fight and fix those issues, and you'll soon feel much better and it will make it easier for you to change your habits and start feeling better. So, now that you know this, let's see how to continue.
The 3 best Detox Juice Cleanses to Reach Your Goals
There are several juice brands out there that offer nutrient rich, low calorie plans. It can be quite tricky to compare the quality of the produce – which is one of the most important factor. Further down we'll discuss what to look out for in a juice cleanse and we'll answer a bunch of the most frequently asked questions.
But first, we're going to have a look at our top juice cleanse picks for weight loss.
The Plenish 3-Day Cleanse
Plenish Level 1 or 2 Juice Cleanse
The best plant-fuelled way to meet your goals – designed by expert nutritionists and produced freshly in the UK. The Plenish Juice Plans are all about having 6kg of raw, 100% organic produce every single day, that's it. 
No fluff, no added sugar, preservatives or colorants. Just 6x500ml of 100% naturally-fresh cold pressed juices per day.
Choose from three levels of difficulty, to suit your juice cleansing experience and your end goals. 
➞ Easily order your first cleanse on plenishdrinks.com with free delivery in the UK.
The Press London Virgin Cleanse
3 Day Virgin Juice Cleanse
Perfect for first timers – a balanced combination of nutrient-packed juices, nut m*lks and activated water, meaning you'll receive a full variety of flavour and nutrition.
Each day comprises 24 drinks, one for every 2 hours (850cal/day).
This cleanse is perfect to help eliminate cravings, and kickstart a healthy lifestyle. 
➞ Order your first Virgin Cleanse here.
3 Day Juice Cleanse - DrDetoxBox N°3
The 3 Day Juice Cleanse from DrDetoxBox is a good way to detox and weight loss for less money. This detox plan consist of less quantity produce, hence the lower price.
It's perfect if you want to combine a detox plan with light soups or healthy snacks. 
You'll drink 6 detox juices of 250ml and 3 juice shots of 60ml per day (just under 630kcal per day). This is not an easy cleanse – not recommended for beginners.
What are the Benefits of Juice Cleansing?
Detox juices can help your body carry out its natural detoxification process, as well as increasing your energy levels and improving your mood.
Among the benefits of detox juices is the diuretic effect thanks to its high fibre content and laxative effect, which is why it also acts against fluid retention or constipation and it is also anti-inflammatory.
It also cleanses the skin of toxins, making it look clearer, combating acne, and promoting a glowy complexion. Alongside this, it also helps lower cholesterol, supports the immune system, regulates sugar levels in the blood, and helps detoxify the liver, thus, it promotes weight loss. We've got a complete weight loss juice plan guide for if your primary goal is to control your calorie intake and kickstart your diet.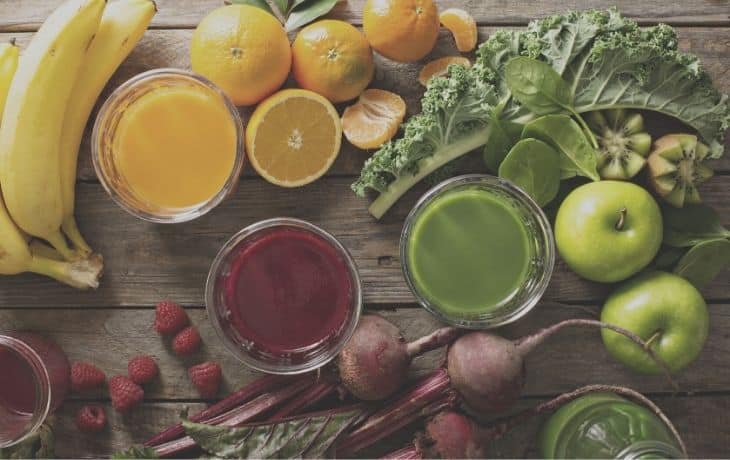 What You Need To Look Out For In A Juice Detox
What You Need To Look Out For In A Juice Cleanse
When it comes to picking the right juice detox, it's easy to get lost in a jungle filled with so many choices and products where everyone pretends to be the best on the market. Thus, it becomes notably difficult to know which juices work.
It's important to investigate, read reviews and, ultimately, test the products to get a hold of the overall quality of the product and how it may promote our health. To convey this easily, we have broken down the properties that juices have into three categories:
The Taste & Variety of Juices
The Quality of the Fruit & Vegs
The Price and Quantity
The Taste and Variety of Juices
Ok, you're going to be drinking a lot of juice, so it better be the tastiest! It not only increases the pleasure of a proper juice cleanse for detox, but it also keeps you accountable! If you cannot find the motivation to drink vegetable juice because you may not like the taste of vegetables, you can get away with it if it tastes great! So, when it comes to choosing the right juice, the flavour is one of the main key points!
Besides, a tasty juice can suppress the craving for sweets, making it much easier for you to stick to your plan all the way through. Similarly, the smell of the juice and its taste often go hand in hand, and both are equally important for the overall experience and for you to feel comfortable in your detox journey.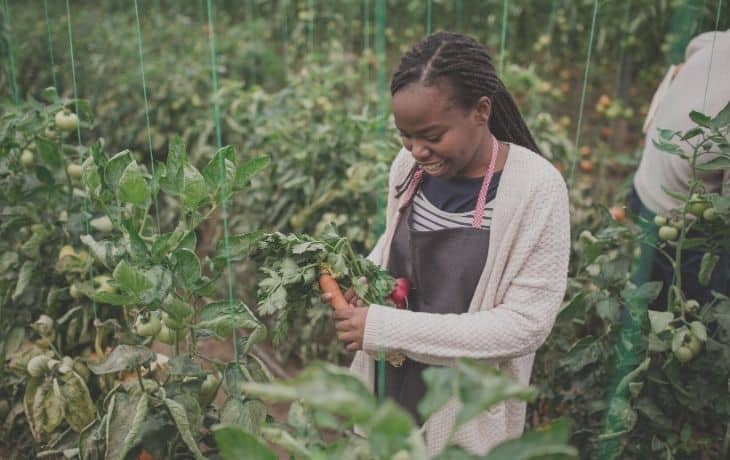 The Quality of the Fruit & Vegs
This is the most important criterion, as this is exactly the reason why you've decided to follow a detox plan. To feel cleaner and better, improve your energy, and refuel your body with good quality and bioavailable nutrients, you need the best quality you can get in the market. Unfortunately, this is a difficult category to assess, but in general, a few things you need to have in mind when reviewing this aspect is how the juice promotes your energy levels, sleeping habits, mood, and whether it helps with the body's detoxification process.
For this reason, three main criteria play an important role in this section, which are: The quality of the produce, that means: whether the vegetables and fruit are 100% organic and pesticide-free. Whether they were grown in rich land, as this has a great impact on the density of nutrients available in the fresh produce, as compared to fruits and vegetables grown in depleted soils.
A 2015 study published by the Food and Agriculture Organisation of the United Nations shows that when the soil is exploited for crop production without restoring its nutrient contents, the nutrient cycles are broken as the soil fertility declines and the balance in the agro-ecosystem is destroyed. Naturally, this affects the food grown in it, and that is something we must have in mind when choosing the right juice.
Also, it's important to choose cold-pressed juices over smoothies and normal over the counted juices, as the cold-press mechanism allows the nutrients to be intact. This is because unlike a conventional blender, a cold pressure machine presses the fruit to extract the juice. This provides a better quality product since it extracts the liquid without heating it and minimises the oxidation, preserving all the nutrients.
And finally, the juice should not have any added sugars or sweeteners, or additives.
Price And Quantity
Finally taking into account how much you're getting for your money. Making your money worth is also an important criterion that should be considered because the most expensive detox treatment is not necessarily always the best.
This way, you should also pay extra attention to the quantity of the product. Many brands that offer premium juices may provide a smaller packaging, which is not bad, so long as you take the daily intake of calories and nutrients. But for some, this may mean two bottles, and I don't know about you, but that sounds quite expensive.
Some juice brands often offer juice plan promotions and discount codes – make sure you've checked our juice sales overview so you don't miss out on savings.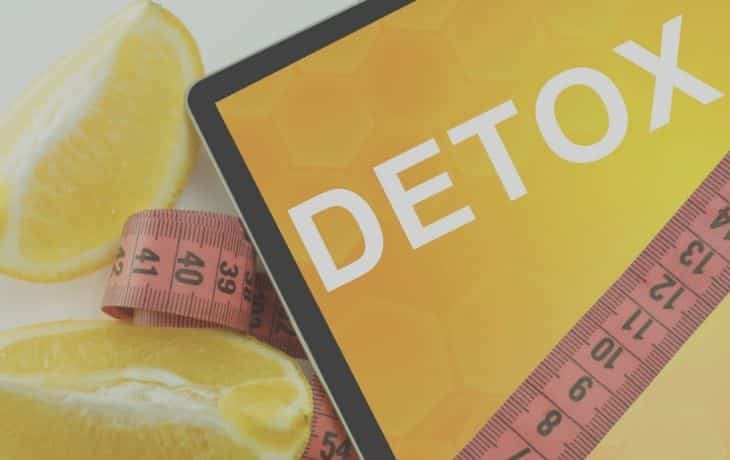 What to Expect From a Juice Cleanse?
It is common that, during and after a detox, your body goes through changes and irritabilities. Your organism may respond and release toxins in different ways. Some people might breakout and some others may visit the toilet too often, while others don't see any changes in the middle of the process. However, this is a normal part of the detox.
When your body undergoes a detox treatment, it cleanses by releasing toxins called "xenobiotics". These substances, foreign to the body, need to be eliminated. Otherwise, they are metabolized and accumulated in the body, causing damage to our health. This is why it's important to juice cleanse at least once a year.
In this group, we find pesticides, air pollutants, heavy metals, plastics, medications, hormones, and chemical additives from food and personal care. To eliminate this, our body has to transform them and detoxify, which is carried out by the liver and the kidneys.
After feeling those symptoms during the cleansing process, the signs of a clean and detoxified body start to show up: your skin becomes clearer and softer, your mood gets better, you have more energy and brain focus, you feel lighter, less stressed, and tense, you'll sleep better, you won't be bloated.
Frequently Asked Questions About Juice Cleansing
Final Thoughts
A Detox Juice Cleanse lasts a short amount of time but has long-term benefits for you body. It's a great plant-fuelled way to reach your goals. It will feed you with antioxidants and give your system a break from unhealthy foods – so you will feel rejuvenated, inside and out – without needing to deprive yourself for months on end.
Go back to our top picks section.